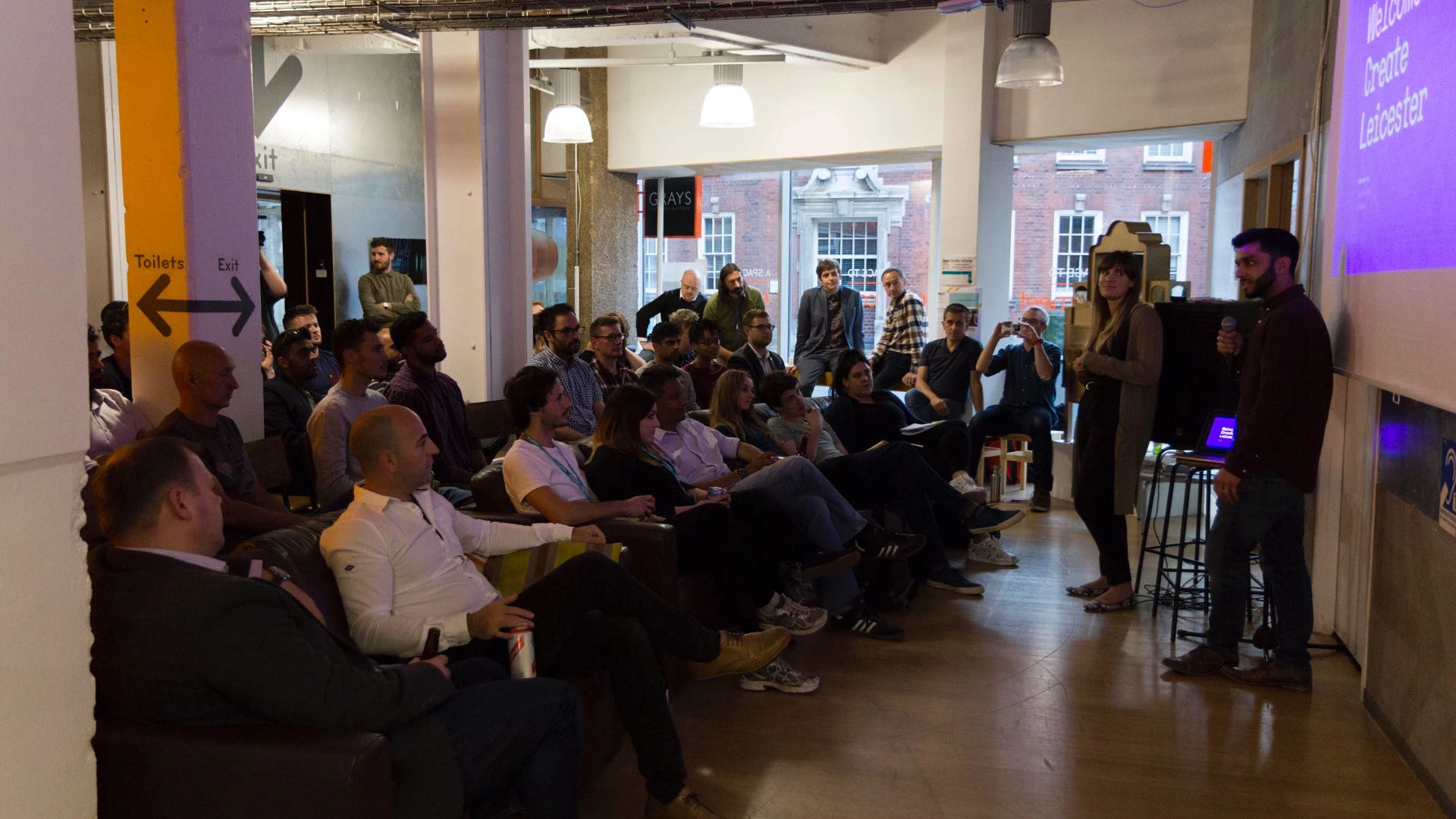 Having recently wrapped up our second Create Leicester event, we wanted to share our insights of how we coordinated these events and share some takeaways of what we have learnt.
Our Vision
Inspired by visiting local digital design meetups, a small group of individuals questioned: "Why doesn't Leicester have its own digital design event?" So we decided to host our own event, Create Leicester. Create Leicester would be a series of quarterly digital design events, with the goal of bringing together the local community to learn, network and collaborate with their fellow digital design peers.
Our vision was simple, we wanted to bring insightful and engaging speakers from some of the world's leading organisations, agencies, startups and independents. Each event would be set in a relaxed, sociable environment, with an ethos of becoming something the digital community could rally around. To top off our ambitions, we wanted to give this to the community for FREE!
Daunting as it seemed, our second event is in the rearview mirror. We're heading full steam into our third event. This is what we've learnt along our journey.
Built on Good Relationships
We reached out to local organisations we have strong relationships with to help us deliver an exciting event we envisioned for Create Leicester, as well as clients that we have worked with here at Bulb Studios.
They supported the event through a number ways – they either sponsored the event to help us create a lasting impression to the community, inspired others through speaking at our event or even just simply attended on the night to see what we were trying to achieve.
These relationships have helped us build new connections, push our concept and encourage the community to grow. We partnered with a well established creative hub in Leicester, LCB Depot, to host Create. This partnership helped give their network and prospective attendees affirmation that this would be an event of a high standard.
Our peers within the industry all shared our vision of promoting a local creative digital community within Leicester, and working with an established creative centre meant our exposure to the community was even greater than we could have hoped.
Realistic timeframes and manageable goals
With any major project, we made clear and realistic timelines. We identified a target date for our first event and worked backwards to deliver on time. Scheduling our events to take place quarterly in the year allowed us breathing room to recruit speakers, seek funding and develop a marketing strategy. We made this choice so that we could ensure each event has a high calibre of speakers as well as giving us time to reflect on how we can make improvements and give the best possible experience to our attendees.
As this was a first for us, we wanted to be realistic with our planning and play to our strengths as a team. Through efficient project management, everyone understood the timeline and what was required.
'If you build it, they will come'
On the opening night, we had a fantastic turnout. Leicester's creative community was represented by local businesses, independents and freelancers, students and public sector staff. The atmosphere was buzzing with people networking, getting involved and being inspired by our speakers.
Prior to the event, we pushed on our social media strategy and marketing messages to help spread the word. We used direct emails to local companies, Twitter and Instagram to reach out and create tangible interactions with our audience.
The feedback from the attendees was all we could have hoped for, people were enjoying the high-quality speakers, networking opportunities and the relaxed atmosphere. Most importantly, they were glad Leicester finally had an event of its own. This proved that we were on the right track and that we were onto something that the great people of Leicester wanted.
Going forward, we've built the perfect platform to deliver an exciting set of talks from high calibre speakers and the space for our attendees to network and collaborate. With each event we learn from our audience and listen to their feedback, giving us the opportunity to test new ideas for our approach, just like when we prototype a website or mobile app.
Our journey has just begun
We have our next event lined up in April, with July and October already penciled in with our venue along with our speakers. This promises to be an exciting year for Create Leicester in establishing itself as the digital event to look out for in the Midlands. The generous support provided from our community supporters will continue to pave the way to propel our local digital design community further.
For more details, please visit createleicester.co.uk.