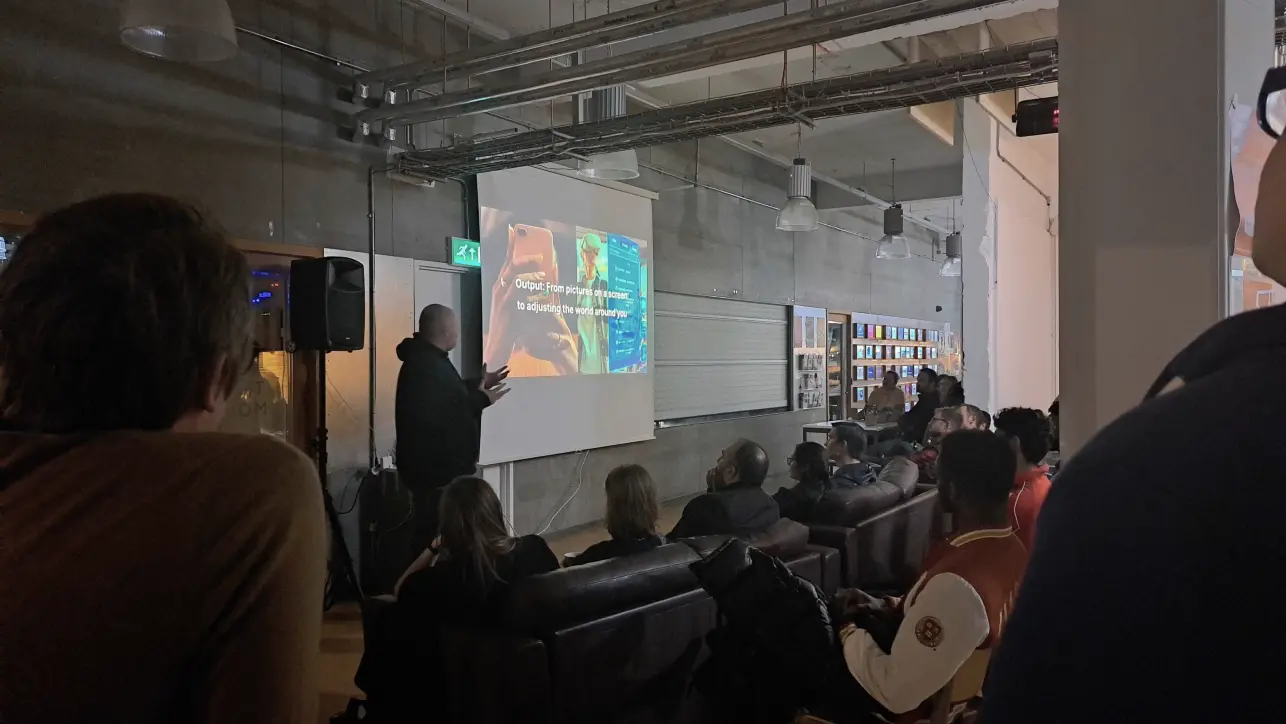 Feeling At Home In Virtual Worlds, 26th October 2023.
Hosted by Dan Webb, CEO at existent.
By Abi Flint, Digital Designer at Bulb Studios.
From the start of his talk, Dan Webb of existent emphasised the importance of creating a comfortable experience for users – eliminating VR sickness and increasing what he refers to as presence in the digital environment.
As a designer, albeit one in the early stages of their career and as a collective of digital designers and technologists at Bulb Studios in Leicester, we understand that trust in technology for both designers and all users is crucial — and approaching this world from a human centred perspective is key.
Something mentioned early which piqued my interest, is the potential to use virtuality as a form of therapy. Dan went on to explain how virtual worlds can be used for more than just superficial entertainment purposes but also as a tool for improving daily life – we all have fears so why not use this as a tool to conquer them.
Used in the right way and balanced to human behaviour this could prove to be a safe and comforting way of approaching a problem that may have seemed too daunting for some to face before.
This sits hand-in-hand with human interaction at the heart of a virtual experience, Dan emphasised the value of creating meaningful connections and spaces where users can engage with one another, often where distance would prevent meaningful connection previously. By prioritising human centred design, virtual worlds can become truly immersive.
Key takeaways:
– Reduce abstraction – use real senses to harmonise the experience; bringing the user a sense of familiarity and reality
– The real world needs to be embraced and combined with the experience – the real environment should not be discounted
– Accuracy is less important than natural feel – our brains fill in the gaps if the experience is natural
– VR – Virtual Reality, AR – Augmented Reality and XR – eXtended reality are all versions of what the industry is starting to refer to as Spatial computing
– The ultimate aim is to achieve genuine presence in virtual experience by stimulating all of the senses with believable, engaging feedback.
To finish off Dan really hit the nail on the head with some final words; "Embrace virtual reality as an otherworldly but true to life experience."
By allowing our brains to fill in the gaps, we are able to gain trust and keep control over the situation and environment no matter how otherworldly the context.
Despite the differing context in much of our work, the parallels with our work at Bulb Studios are profound. By focussing on all users of any system and designing interactions to efficiently and rewardingly benefit users and their needs, we can create more meaningful digital experiences no matter the context.
Having only been working at Bulb Studios since the beginning of this year (2023), I am still relatively new to the Create Leicester community, but the quality and variety of the talks I have attended to-date has been remarkable and the events bring down the great and good of the local creative community.
The Create Leicester Supporters – local companies with an interest in building a digital community were all in attendance and happy to chat during the networking sessions. The event also attracted representatives from the Leicester and Leicestershire Enterprise Partnership (LLEP) and Enterprise and Business Services at DeMontfort University so if you're in digital, aspiring to get into digital or want to become more involved in the vibrant Leicester design community – over a free drink – Create Leicester really is the place to be.
To learn more about Create Leicester, to chat about speaking at an event or becoming a sponsor drop the team a line to: info@createleicester.co.uk.
The next Create Leicester event, is excitingly, only a couple of weeks away as part of Leicester Business Festival. 'Bitter Sweet' puts a fun AI, design, beer and desert twist (yes you read that right) on the usual business event format and takes place in the cosy surroundings of The Two-Tailed Lion in Leicester's famous Greyfriars area – more info and ticket booking here: https://lbf2023.ticketleap.com/bitter-sweet—beer–dessert-pairing/details See you there for design advice and much more.