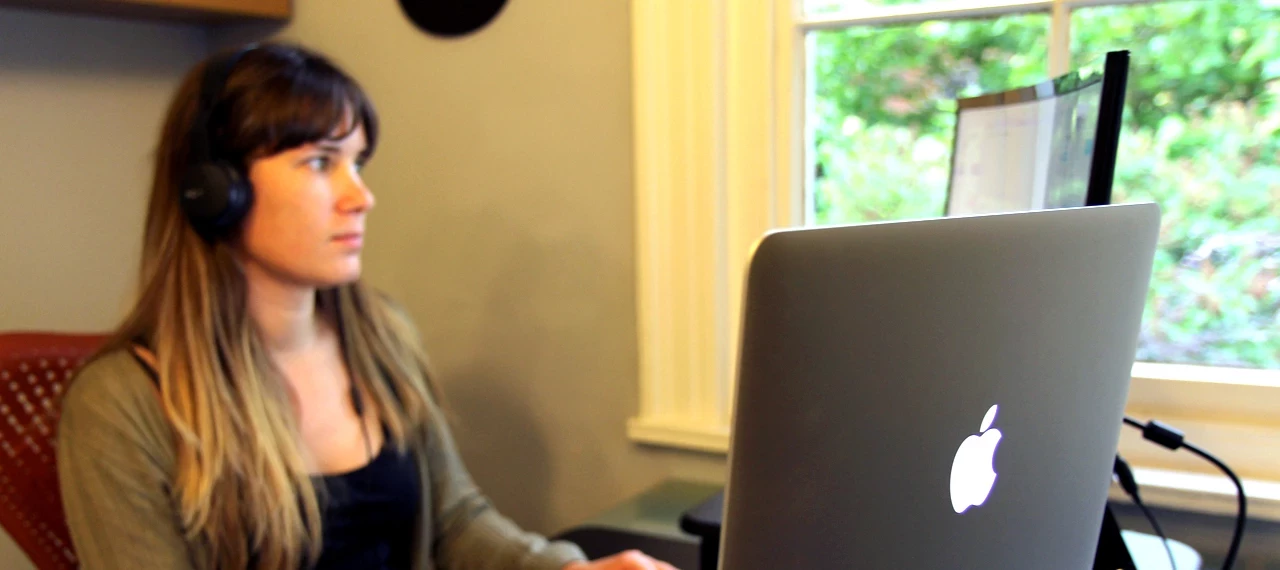 Tell us about how you got into operations/project management and your experiences before Bulb?
I studied Fine Art at De Montfort University, but volunteered and worked throughout my degree- mainly for the charity sector in arts education, but I also completed as many internship schemes as I possibly could across various design agencies in Leicester. I found I was enjoying organising and curating other artists and creatives more than practicing my own work and gradually I shifted towards the career I have now.
How did you end up working for Bulb?
I was working for a local charity called Pedestrian, which is where I met Mat and Jim. When they had a position arise here, they approached me as I'd worked directly with them on a few projects, so they knew me well and thought I'd get on well with the team. I have been through quite a few positions since as the company has grown- starting out as Studio Manager to Project Manager, Senior Digital Project Manager and now Operations Director.
What were the key factors that made you choose to work for Bulb?
The range of clients and projects really interested me- I wanted to feel challenged and as each project we do is entirely bespoke, there's a lot of variety in the day to day. I love getting immersed in a project and I like to consider myself as a strong communicator, so the environment here also really appealed to me. There's the flexibility and freedom here to tailor your job role based on your strengths- the team here are so supportive, and people are free to think creatively and problem solve collaboratively.
Tell us about your day-to-day responsibilities?
I handle the scheduling of projects, and I'm responsible for the majority of the communication between the client and project teams. I am involved throughout all stages of the project life cycle- from quotation to delivery. A large part of my role is facilitation- as well as providing support to the project team and making sure the schedules, budgets and scope are on track.
Most of my days start with schedule planning and team check ins. I'd like to say I have a typical day, but as a large part of my role is reactive, it can be incredibly varied! Some days I'm working on schedules and writing technical specifications, then the next day I'll be helping review staging links, writing proposals or  facilitating workshops. However one guarantee is that I'll be doing a lot of communicating- either via email or in person!
What are you doing to make sure you are keeping up to date with current industry standards and trends?
I'm very lucky in that I am exposed to a range of disciplines as part of my job role, and so I learn a lot from my colleagues. I also make sure to read as much as possible- I follow various blogs, not just related to project management. If you have to manage projects across multiple disciplines, it is vital you have a good knowledge base across all areas. I also attend as many conferences as I can.
What do you love about working at Bulb?
The team and the supportive environment here. I always wanted to work at a place where you feel valued and I look forward to coming in every day. I'm constantly challenged- every project brings new problems to solve and the role provides a really good opportunity to push myself and learn something new. I know I have the team's support when I have to make difficult decisions, and I try to help others feel the same way!
What advice would you give to any aspiring project manager or someone wanting to work for Bulb?
A large part of project management is anticipating when things might go wrong and mitigating risk. You need to have a positive attitude and know how to motivate others in stressful situations- that includes yourself. I can spend hours getting the schedules together, to find the next day that it all needs to be amended- you need to be able to look forward and not dwell on the (sometimes) frustrating elements of the job. My biggest piece of advice is to be proactive and transparent with the team regarding why certain decisions have been made.